"Revolutionize global health goals with our intelligent portable carrier box, ensuring safe and uninterrupted transport of temperature-sensitive medical supplies such as vaccines. "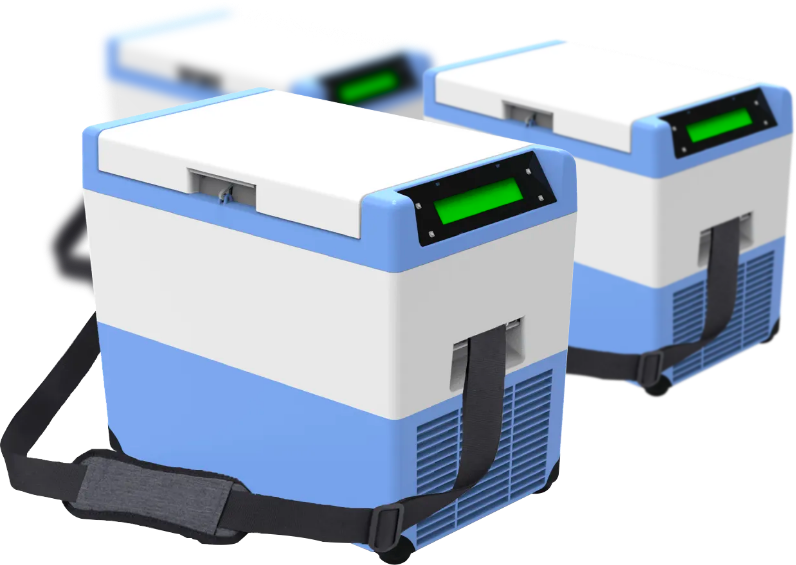 An Advanced Portable Cold Chain Vaccine Carrier Box
Introducing the ZedBlox ActiPod – the world's first portable smart vaccine carrier box, specifically designed to manage the cold chain logistics for temperature-sensitive healthcare products. With live data monitoring, our active cold chain carrier box is the solution designed specifically to tackle the challenges of the product's safety and reliability.
Advanced Technology For Dynamic Temperature Control
ActiPod, provides a reliable solution for storing your temperature sensitive products at the ideal temperature, regardless of the external climate or weather conditions. By setting the desired temperature range between -10C and +25C, ActiPod will automatically select the appropriate cooling or heating method to regulate the temperature, ensuring that your temperature-sensitive healthcare products are always kept at the optimum temperature. ActiPod is designed with cutting edge technology that continuously monitors external weather conditions and adjusts the temperature as required, providing the most effective temperature control solution for the healthcare industry.
Real-Time Temperature & GPS Tracking
ZedBlox ActiPod uses cellular data networks to collect real-time data about temperature, location, and other factors that can affect temperature fluctuations during transportation. This data includes information from sensors that monitor temperature control mechanisms, battery usage, and discharge levels. The collected data is then processed by advanced artificial intelligence and machine learning algorithms to determine if any actions are required to ensure safe transportation of your products to their destination. With ActiPod, you always know where and how your products are, using live monitoring of geo-location and temperature through your mobile or browser. With this live tracking system, rest can be assured that your products are being monitored at all times and kept at the perfect temperature, enabling you to transport them worry-free.
AI Powered Monitoring
ZedBlox Actipod utilizes advanced AI-powered technology for intelligent monitoring. The device comes equipped with intelligent electronics that integrate temperature control and telecommunications, while embedded software optimizes compressor usage and battery life using temperature sensors to regulate ambient and cargo temperatures. The device also incorporates an AI-enabled cloud platform that can manage thousands of devices, providing automated analytics for end user reporting and alerting for anomalies. This intelligent monitoring technology ensures that your cargo stays at the optimal temperature during transportation.
Battery Powered

ZedBlox ActiPod incorporates energy-saving technology and a high-capacity 21Ah Li-ion battery, providing up to 24 hours of use with just 4.5 hours of charging. With a better lifespan than the traditional carriers, these batteries can withstand numerous deep charging and discharging cycles, ensuring optimal efficiency and longevity for our customers.
Robust, Lightweight Design
ZedBlox ActiPod, available in two capacity variants – 4 litres and 15 litres, boasts a robust yet lightweight design, with an all-weather thermoplastic body and water-resistant nylon belt that provides comfortable carrying. Its cushioned rubber legs ( 4L ) offer protection from accidental outdoor drops, while its stackable design optimizes space savings. Additionally, the water-tolerant construction makes it a highly convenient outdoor carrier.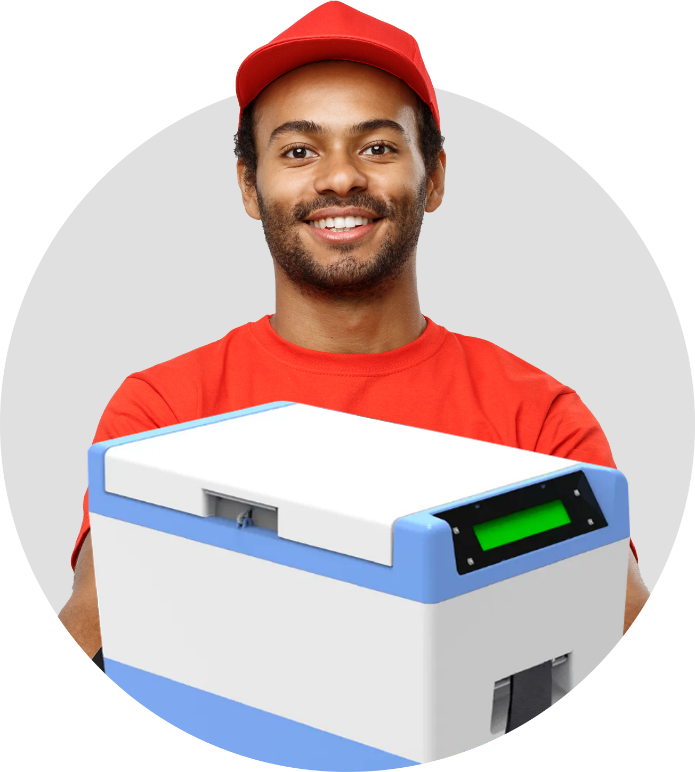 Compliance
ZedBlox ActiPod adheres to the guidelines recommended by the World Health Organization (WHO) and the Government for the safe storage and transportation of temperature-sensitive health products such as vaccines. It has undergone rigorous biological safety validation at CCMB, a top-tier research institute under the Government of India (GOI).The device is tested thoroughly by NABL certified labs which ensures that ActiPod meets the highest standards of safety and reliability for the transportation of temperature-sensitive products.
Reusability
ZedBlox ActiPod is a durable and long-lasting reusable Cold Chain Carrier designed for optimal performance over a lifespan of up to 5 years.
| | |
| --- | --- |
| Capacity | Two variants, 4 liters and 15 liters |
| Body | Rugged plastic ABS |
| Carrier weight (empty) | 4 liters variant – 6 Kgs, 15 liters variant – 8 Kgs |
| Temperature | Any setting between -10 to +25 C |
| Battery | 12 to 24 hrs (accessory for life upto 48 hours), Charging time – 4 hours |
| Connectivity | Cellular data to ZedBlox cloud server |
| Sensors | Medical grade temperature sensors – 2, GPS, Accelerometer, Gyroscope |
| Cloud server | Advanced Al based carrier health monitoring, mobile alerts, analytical reports, integration API's |
| Accessories (Optional) | Belt Harness, Power Bank |
Unique Features of ZedBlox ActiPod: What Sets It Apart?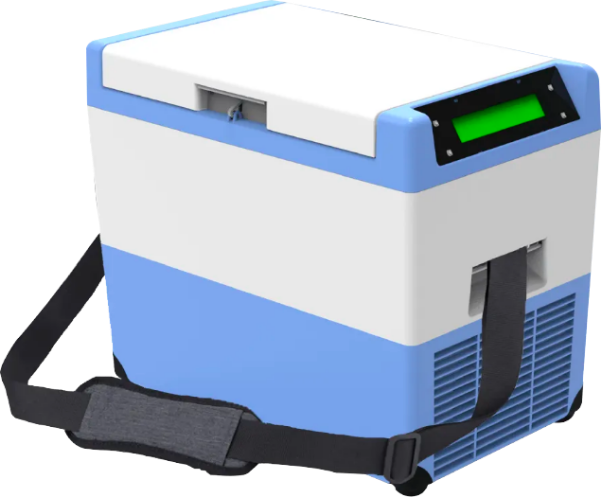 Revolutionize Your Healthcare Logistics: Exploring the Multifaceted Applications
ZedBlox ActiPod is a game-changing technology that revolutionizes the way we transport temperature-sensitive medical products, from organs and tissues to preventive treatments like vaccines. With its intelligent design and cutting-edge technology, the Smart Active Cold Chain Carrier is a versatile solution for a wide range of applications, including:
Tailored medicine, such as cellular or gene therapy, where maintaining precise temperatures is critical for success.
In-vitro fertilization, where hormone injections and male reproductive fluid need to be transported with care.
Orthopedic treatments that require autologous cell treatments and injections, as well as other biological samples like cell cultures, live microbes, proteins, and enzymes.
Diagnostics samples, which are transported from the patient to centralized labs with the utmost care and temperature control.
Ophthalmology treatments that involve transporting donated corneas and medicines with extreme temperature sensitivity.
Preventive treatments, including vaccines, where maintaining temperatures between 2 to 8 degrees Celsius is crucial for their efficacy.
Other temperature-sensitive medical products like injections, eye/ear drops, insulins, antibiotic liquids, oncology treatment items, and certain creams that require consistent and precise temperature control.
ZedBlox ActiPod ensures the safe and reliable transport of all these products, providing peace of mind to healthcare professionals and patients alike. Upgrade your logistics with our new Smart Active Cold Chain Carrier  and experience a new level of efficiency and reliability.